OFF THE BEATEN TRACK:
We were lucky enough to chat to incredibly successful chef - Joe Hill of Kent's hottest new restaurant The Table.

Interview | November 2021
Whether it's working with Gordon Ramsay or in a Soho House kitchen, Joe has a huge wealth of knowledge when it comes to food and running a restaurant, and we got to pick his brain. Joe tells us why he moved to Kent from London in the first place and also gives us some inside knowledge on some secret spots in and around Kent. If you're taking a trip to Kent anytime soon you'd be a fool not to pop in for a meal at The Table and experience their delicious seasonal menu while listening to a bit of old school hip-hop.
Chef Joe Hill. Scroll or Click across for more images.
Wanted to be a footballer, studied graphic design at St. Martin's, worked as a DJ, started cooking, 10 years working in London as a chef (Gordon Ramsay, Soho house etc..) Met Jenny, fell in love with her and her 2 kids, we had another baby, moved to Broadstairs, opened The Table. And here we are!
Originally I wanted to open a seafood joint, so we decided would be best to move to the coast as kids the were at a good age. We looked at a few different places but fell in love with Broadstairs as it has a lovely village feel and only just over an hour away from London and my family.
Since moving what have you discovered about the area? What secret places or spots have you found that you can recommend?

Bloody loads! So much to do in Kent and not enough time! Farms, forests, surfing, beautiful coastal walks and space to think!
How did The Table come about?

I was doing a lot of chef/restaurant consulting in London, so was travelling a lot. The space came up at the right time as I wanted to be more local, be near the kids and Jen. I was burnt out as a chef, so we opened up as more of a deli/wine shop. But gradually with lock down and time to chill/reflect I started to get my mojo back. And the time felt right to open a small restaurant.
How would you describe The Table's aesthetics?

Its minimal & rustic, it's an old building so kept allot of it's features. Which gives it a really warm and welcoming feeling. We have a small seasonal menu - street food flavours, refined. Being a DJ before, I love music so we play lots of hip hop, funk, rare groove, reggae sometimes probably too loud. Ha ha.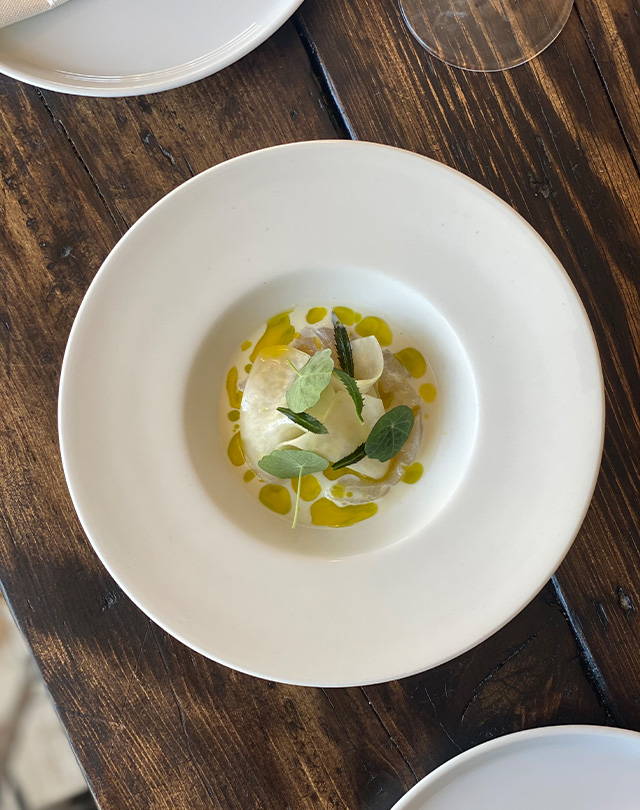 Halibut sashimi, ponzu & lobster oil.
What is your favourite dish currently on the menu?

I have a halibut sashimi, ponzu & lobster oil which I love as it's so fresh!
Are there any wines that should be on our radar?

Everything or anything from Ancestral wines or Modal wines! All natural and delicious!
Where do you love to eat and drink when you're not at The Table?

Very lucky to have some fantastic restaurants & cafes near us! Just a few I love are Sargasso, Angela's, Stark, Cliffs, Staple store, Forts, Xylo, Little swift, Neptune pub! All fantastic… but so many more I could of mentioned.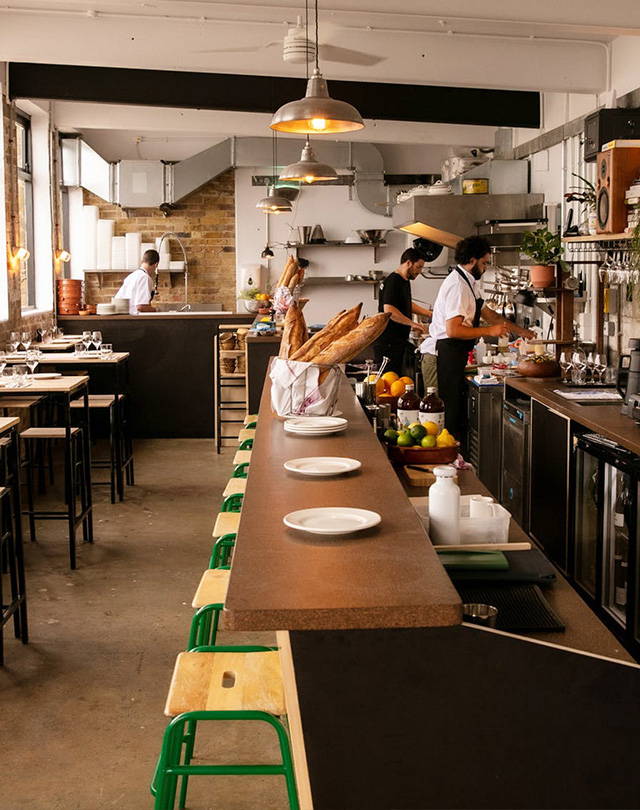 What's the most exciting thing about your job?

We have an open kitchen so great to actually see people's reactions to our food, also being able to talk to customers about our dishes and produce.
Did you pick up any hobbies or do anything differently during lockdown, has life changed for you in anyways?

Well to be honest I don't think I'd have the restaurant if it wasn't for lock down? It gave me that chance to spend some special time with my family and recharge.
to be honest I don't think I'd have the restaurant if it wasn't for lock down? It gave me that chance to spend some special time with my family and recharge.
If travel restrictions didn't exist – where in the world would be your first trip?

Japan 100%! Japanese/Asian flavours totally inspire me, my mum spent 10 years in Japan so she brought me up eating alot of miso, sushi etc… I've never been! But it's definitely my next place!
What's on your kitchen playlist?

James Brown, Stevie Wonder, Lee Scratch Perry, Led Zeppelin, any old school Hip Hop!
Do you have any great kitchen hacks?

Add Soy sauce & or Miso to anything and it will taste great! Umami baby!
- Dead man - Jim Jarmusch 1995
- Blade Runner - Ridley Scott 1982
- No country for old men - Cohen brothers 2007
- David Chang show
- Last word on Spurs
- Parenting hell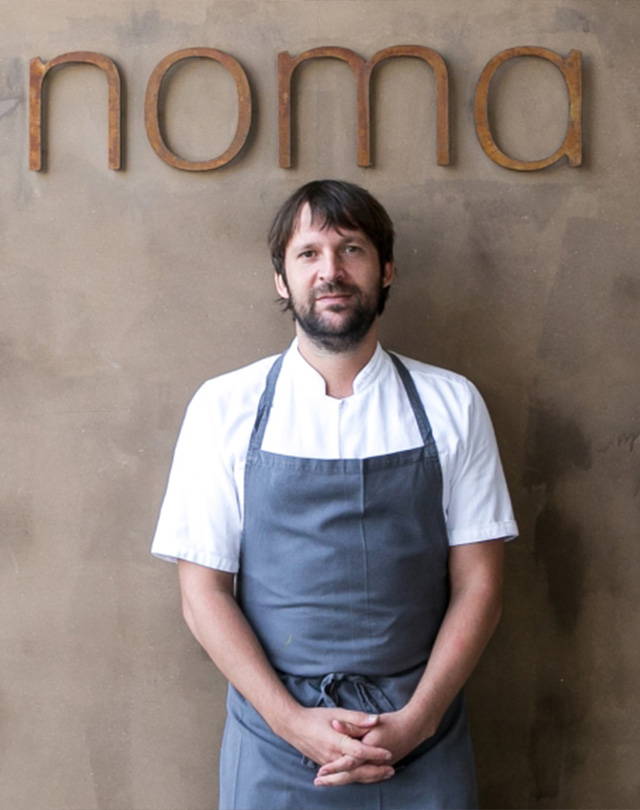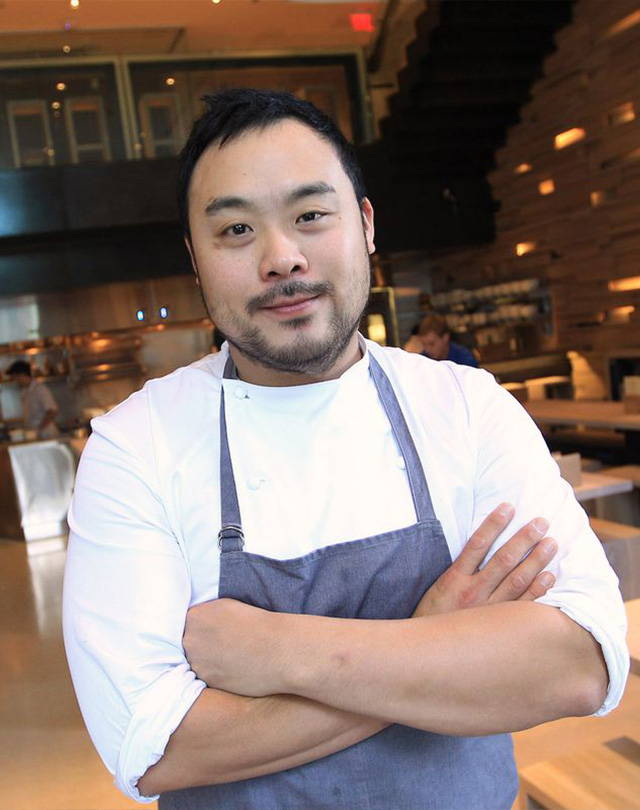 Who are you inspired by right now?

David Chang (Momofuko), Santiago Lastra (Kol), Nikalas Ekstedt (Ekstedt), Rene Redzepi (Noma) my favourite chefs at moment just absolutely killing it! Also my Mrs, Jenny who's just a massive inspiration to me, I'd not have achieved any of this without her!
What are you most proud of?

Having a business, a house, 3 beautiful kids all before I'm 40!
What does the future hold?

A few more restaurants! Lots of travelling! Eating and fun! Me and Jenny have lots of plans to travel the world when the kids have flown the nest.