The Green Lab is the umbrella name we give to the various sustainability projects that we are constantly developing at Grenson. It is broken down in two parts, the first is finding ways to extend the life of our shoes and the second is finding and using new, more sustainable materials.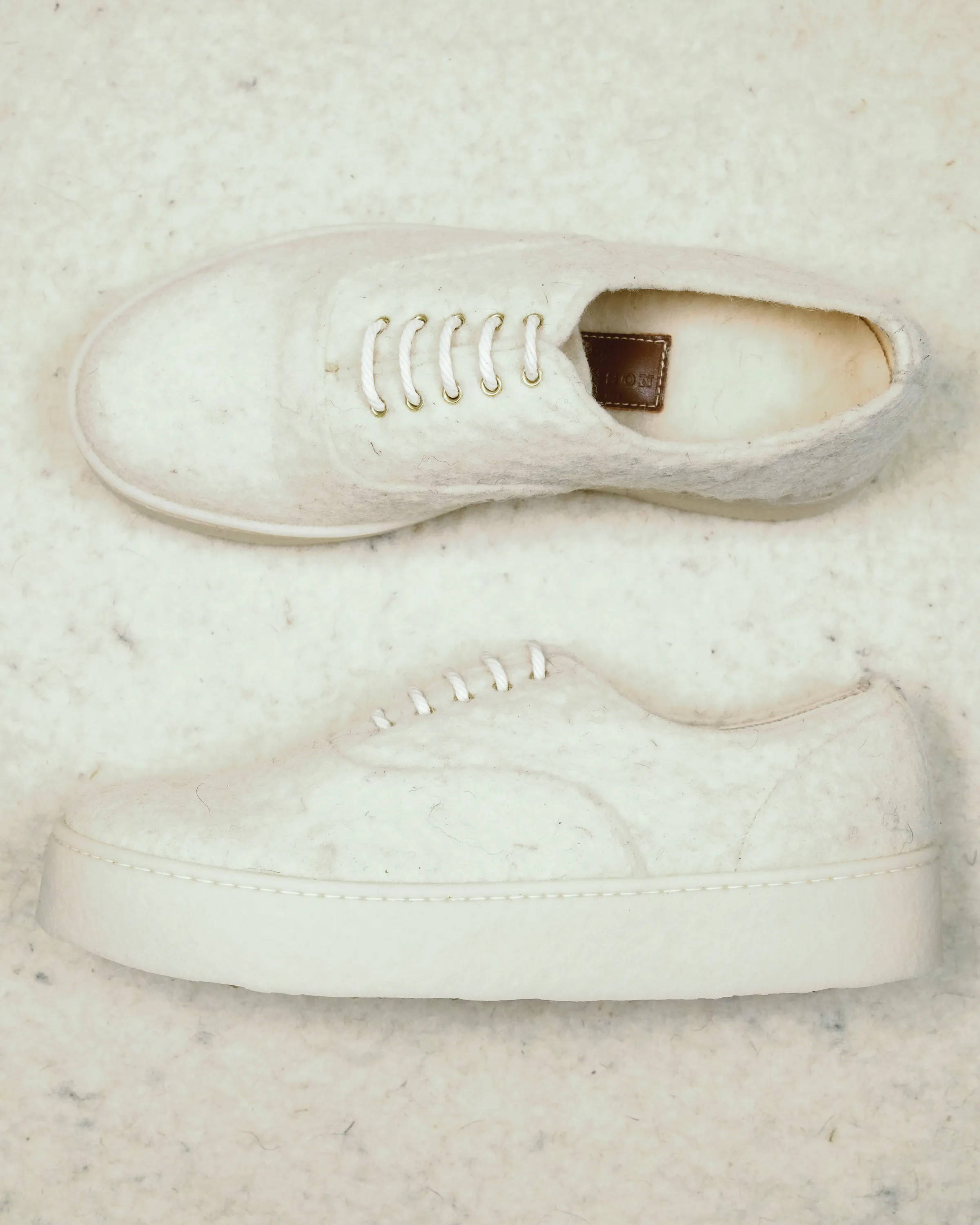 Two years ago, we were approached by the London College of Fashion and Central Saint Martins, to work on a project with an innovative company called Doppelhaus, who develop non woven textiles from British wool to create traceable low impact "circular" material for use in fashion and homewares. We have worked closely with Doppelhaus to develop the wool material to a point where it can be used in shoemaking. The fabric itself is a non-woven felt that goes straight from fiber to fabric. This means that there is no need for a lot of the processes and energy required for spinning and weaving and is fully compostable at the end of life.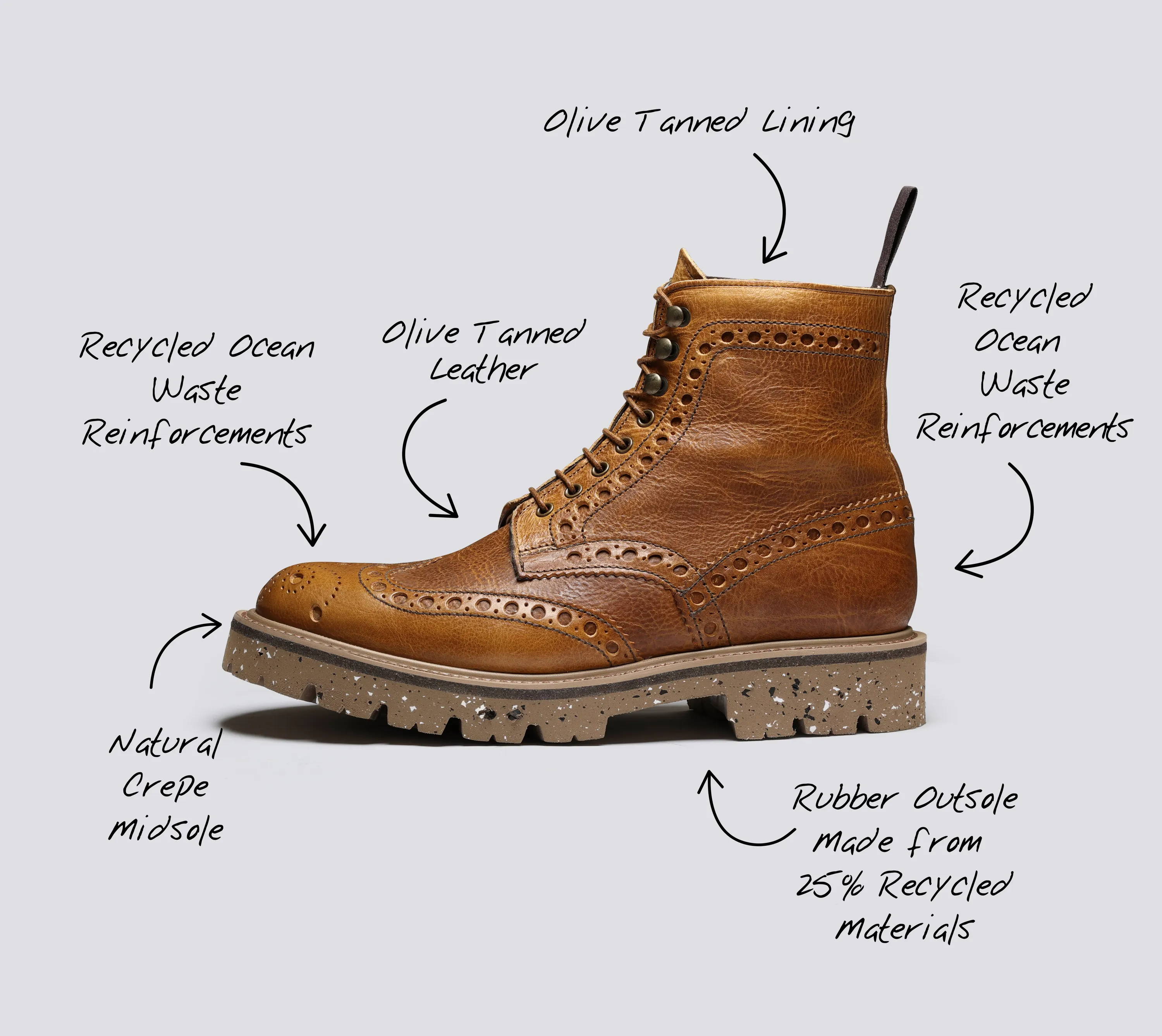 Another way we've been experimenting with new materials is with Olive tanned leather. This method uses newly developed materials that all improve on those that already exist. The upper leather and the linings are tanned using the moisture from Italian olive leaves instead of more harmful chemicals. The soles are rubber and made from 25% recycled material, the midsole is made from natural crepe, the welt is 100% natural rubber and the reinforcements in the toe and heel are made from recycled ocean waste.
A few years ago we were approached by Jack Millington from Billy Tannery, the first new Tannery in the UK for 100 years, who was creating beautiful goat skins from otherwise waste product and wanted to see if we could make shoes out of them. The skins are tanned in Britain from a previously wanted food by-product, using bark extracts and their innovative microtannery process that recycles 90% of the water and turns waste into compost.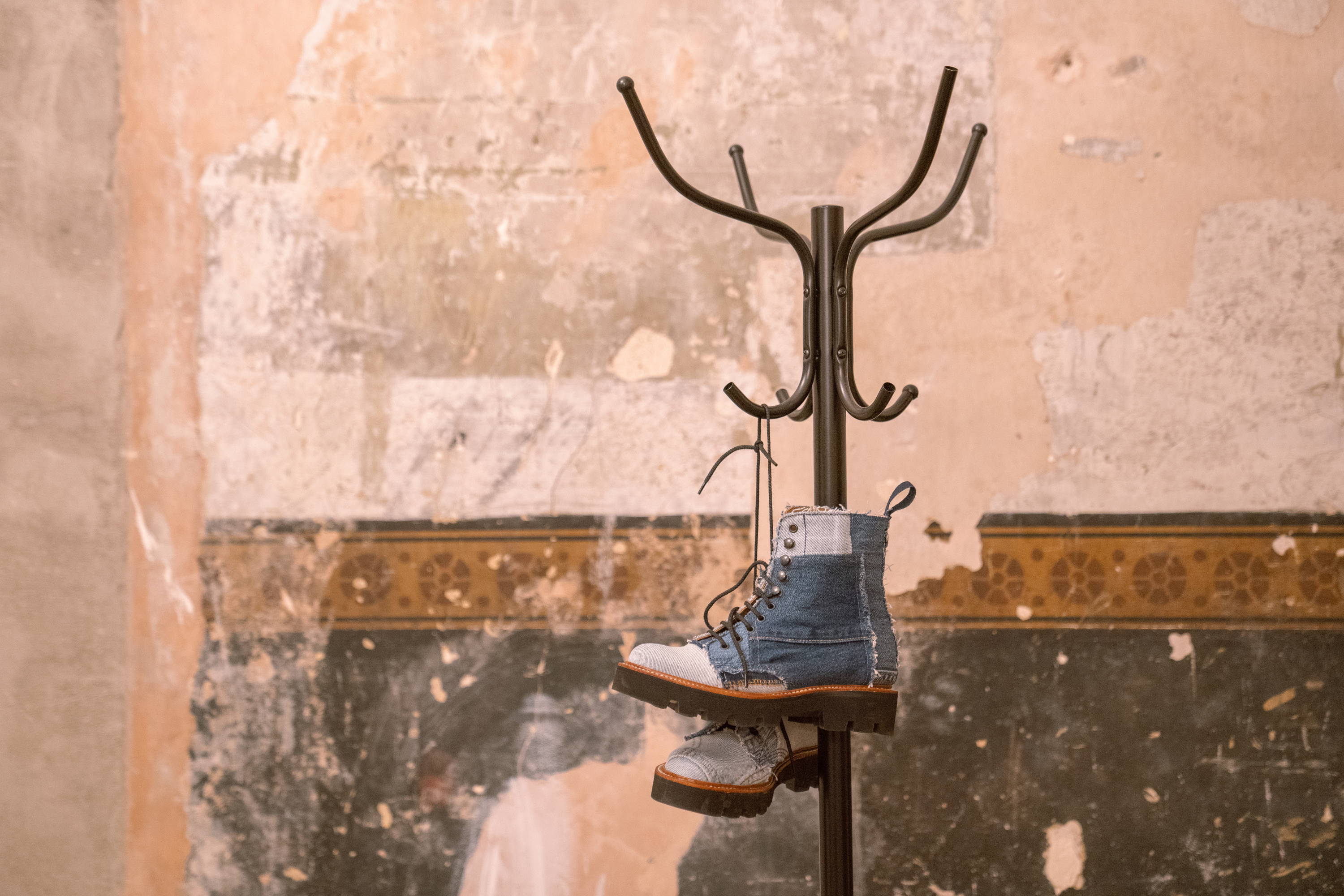 We got together with Kelly Harrington to create a one-off boot which is based on a classic British military boot, similar to the ones we made at Grenson during the war, yet with the twist that they're made from vintage reclaimed denim. Kelly put us in touch with Black Horse Lane Ateliers, who provided us with off cuts of denim, which they usually give to students and people that would like them for projects so as not to waste anything. We put them together in patchwork lengths in our factory in Northamptonshire to make each individual boot, meaning each pair is unique.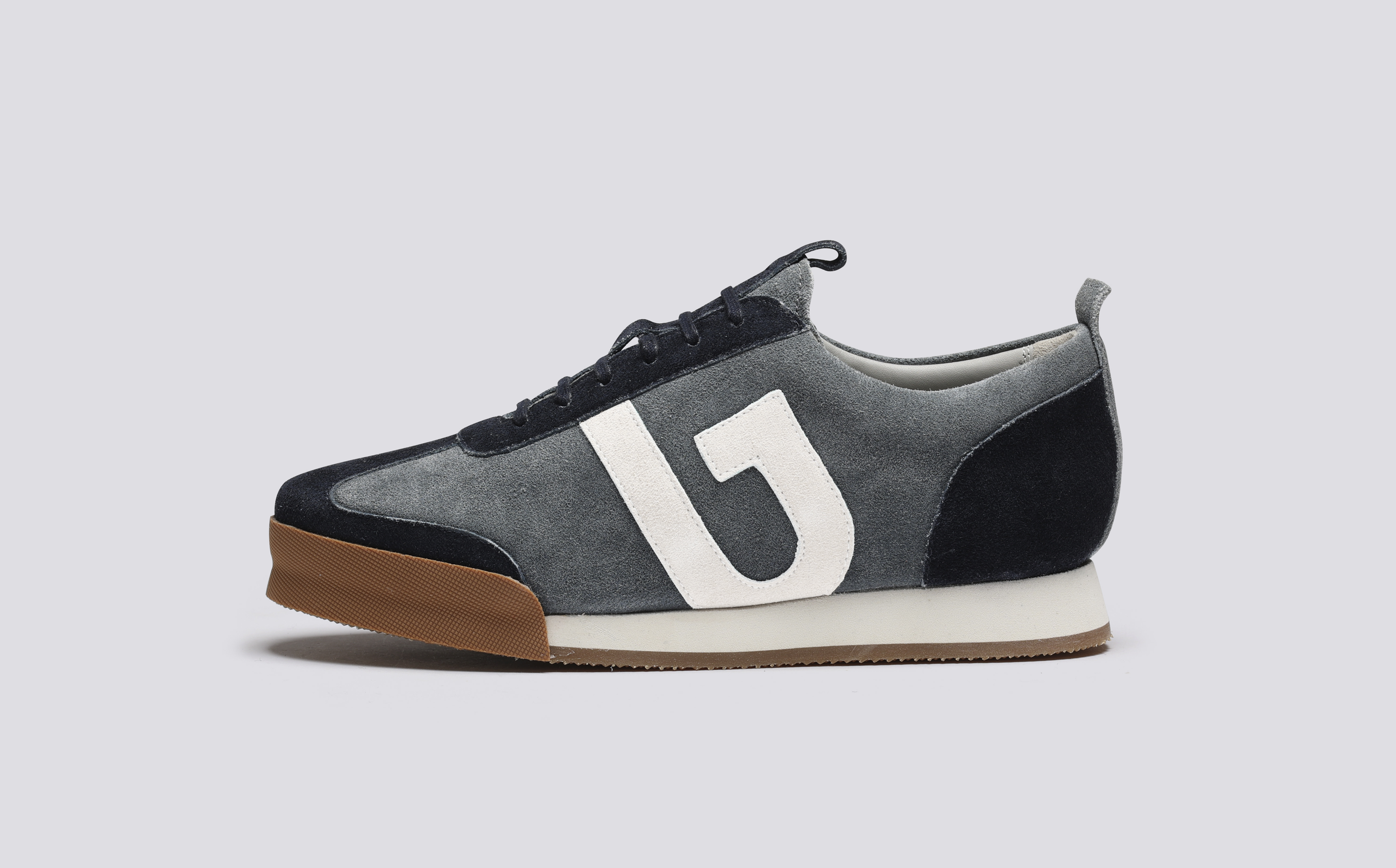 We've been experimenting with different ways to make a shoe that is more sustainable, one of these ways being using eco suede. This particular suede used 50% less water in the process making for a more environmental way of making a shoe.
The ultimate aim that we want to achieve is making shoes high quality enough so that they last for years which means you don't have to keep rebuying shoes. We want to extend the lives of our shoes for as long as possible, one way we do this is through our rebuild service. You can send your shoes in that might need a bit of a spruce up and our experts will clean them up, resole them and send them back out to you so they look good as new but still have all the right creases in all the right places, meaning you can wear them for another 10 years.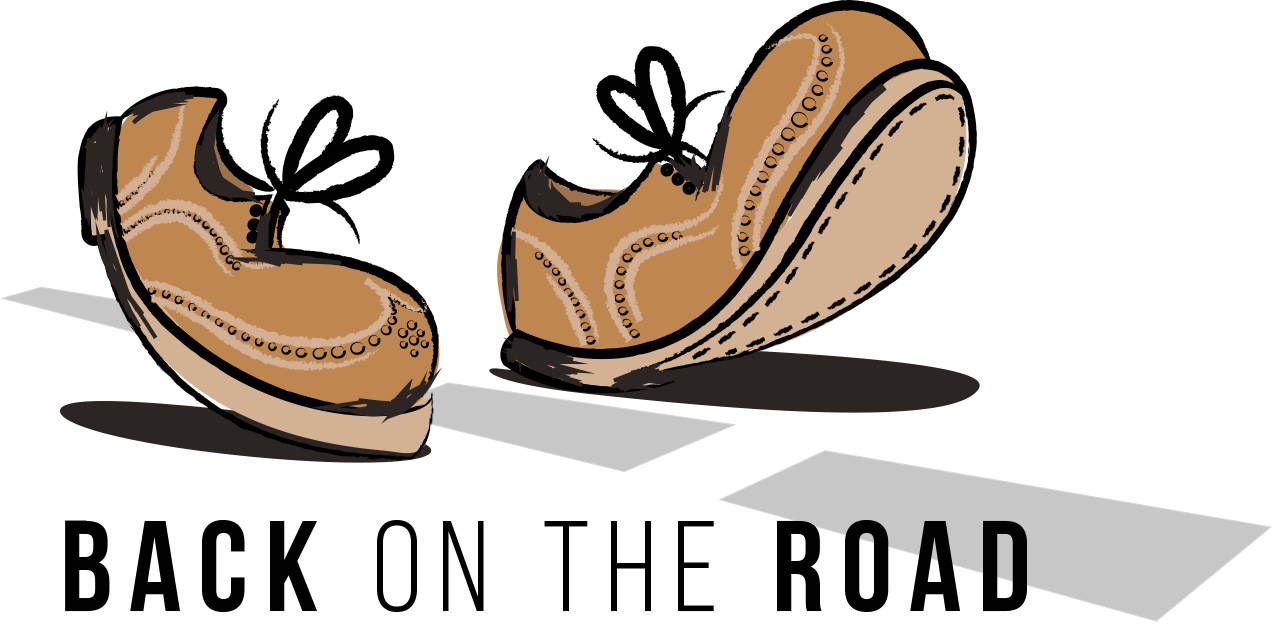 Back On The Road is our latest project to further lengthenthe lifetime of our shoes. We are asking anyone who is about tobin a pair of their old Grensons, to bring them in to us insteadand we will patch them up and offer them to someone elsein order to get a few more years out of them...