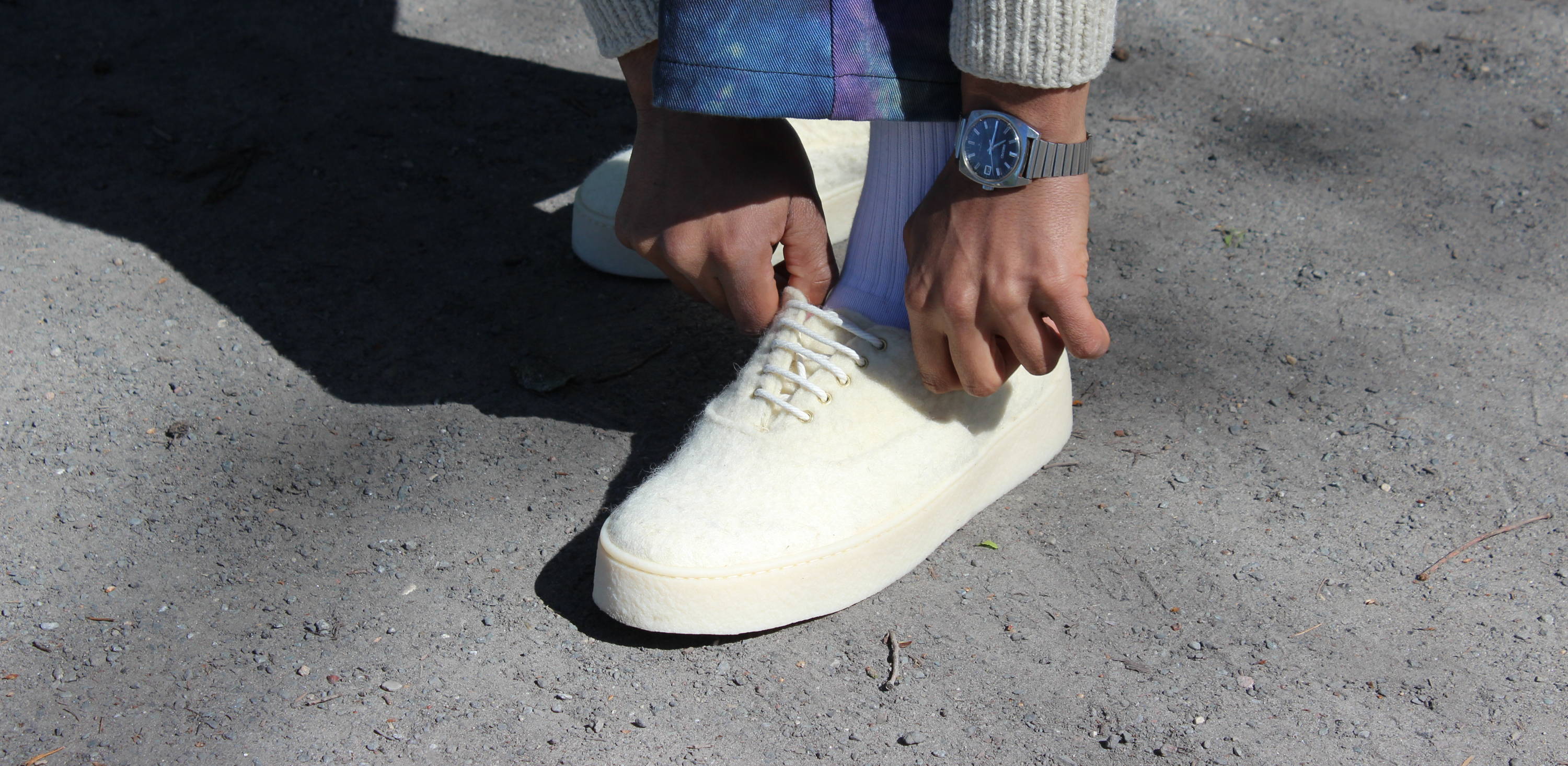 OFF THE BEATEN TRACK:
doppelhaus

Last month we launched a shoe that we had worked on with a company called Doppelhaus, who were we're introduced through the London College of Fashion who asked if we would be interested in working with a company who develop non-woven textiles from British wool to create traceable, low impact 'circular' material for use in fashion and homewares. This week we caught up with Martin and Yolanda from Doppelhaus in Berlin, who took part in our Off the Beaten Track interview series where you can read the full interview below and find out more about our MIE X Cloudwool project.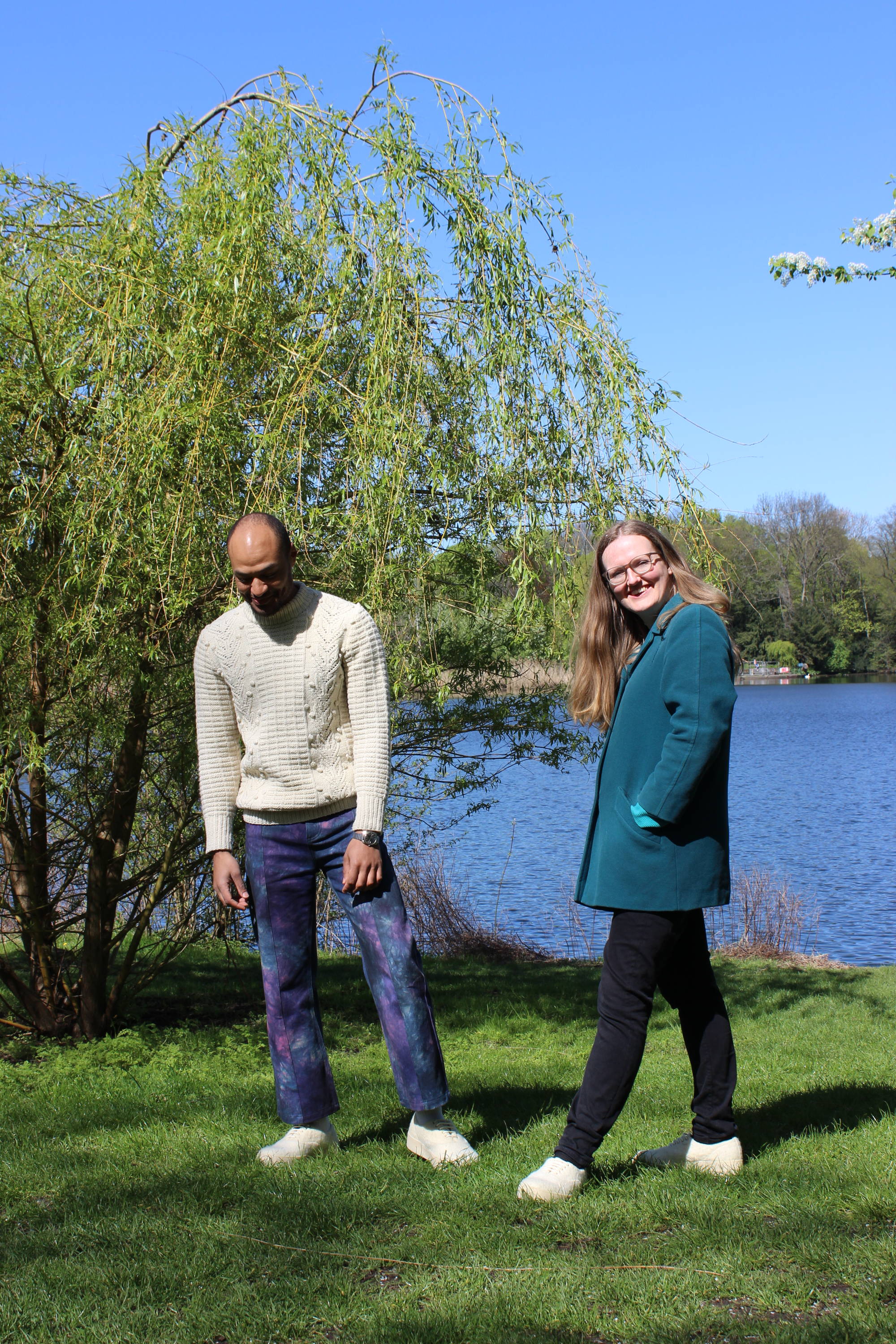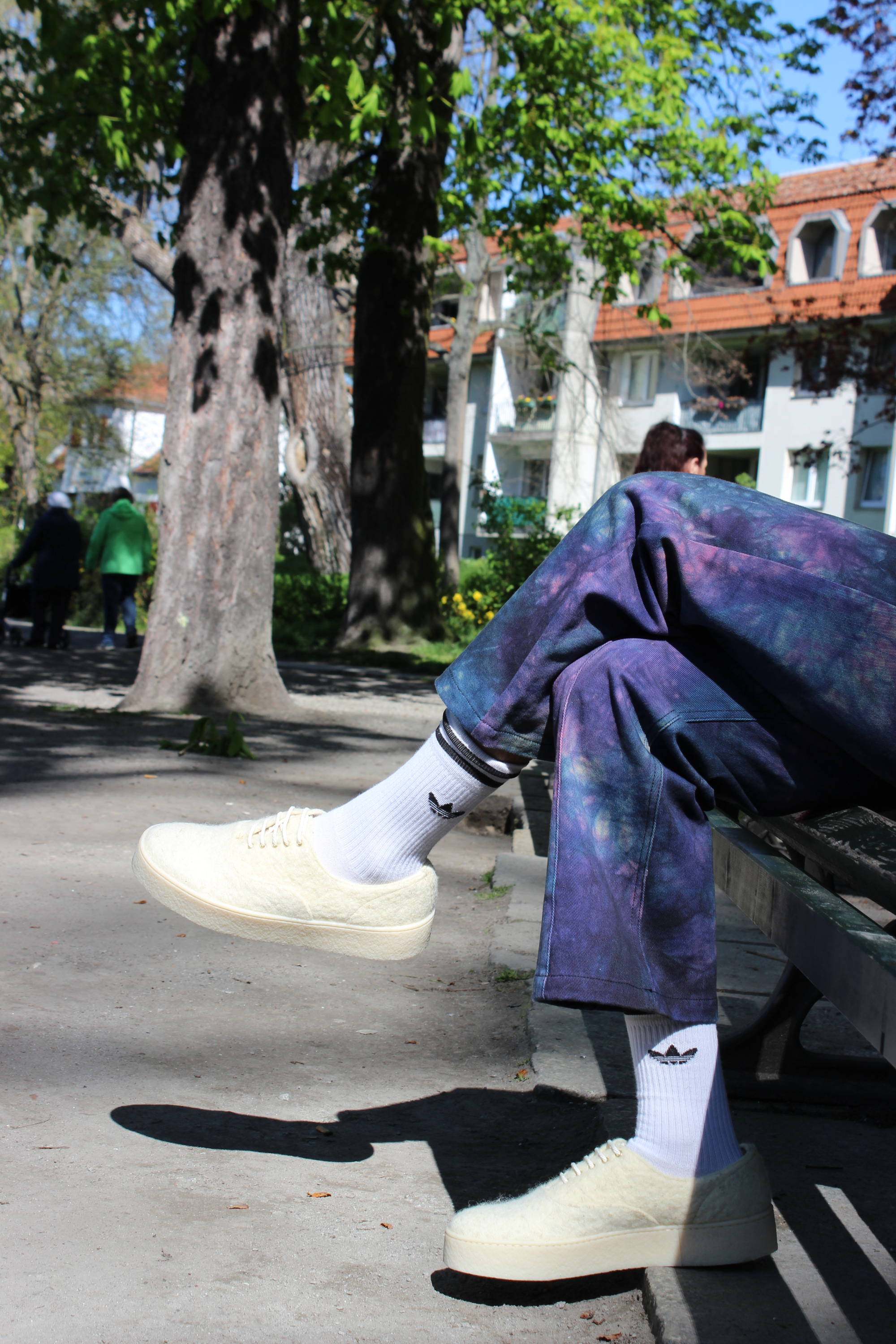 Yolanda: It should be quite easy to write a shared story here, because Martin and I know each other since primary school!
Martin: Yolanda and I have known each other since we were 10 when she moved from Scotland to attend my school in Colchester, Essex. We became close friends, and some of my earliest memories are playing and laughing together in Castle Park. We studied together at every school culminating in our Art foundation studies. Interestingly, Yolanda and I did one shared project at school where we photographed ourselves in shredded denim punk creations. We always worked well together, and when Yolanda decided to study her Textiles and Surface Design degree in Berlin and I had made my decision to go to the London College of Fashion, we established Doppelhaus LTD. At the time, we didn't even have an idea for a business, but we worked so well together that it connected us!
Can you tell us a bit about Doppelhaus and how it all began?

Martin: During our respective final years at university, we initiated the idea for Cloudwool. We wanted to create a material that combined our love for textiles and our shared environmental consciousness.
Yolanda: Near the end of our BA courses, we both got interested in nonwoven textiles, as they are kind of the 'underdog' of all textile techniques, not as sexy as knits, weaves and prints. We knew we wanted to work together and do something with fashion and textiles, and then the topic just 'clicked'.
In 2016, Martin and I went on a research trip to visit the British Wool depot in Bradford, and we realised that it made sense to use new wool to make a nonwoven textile rather than recycled wool, because the price was similar, and supporting shepherds to continue made more sense to us.
Martin: As we researched and experimented, we discovered that wool was not only a sustainable and renewable material but also offered a wide range of properties that were ideal for our vision. With Cloudwool, we wanted to create a versatile and sustainable material that could be used across various industries, including fashion, interiors, and even automotive. And that's how Cloudwool was born!
Obviously we've worked with you with Cloudwool, which is a fabric you developed. Can you tell us a little bit about Cloudwool and how it's being used and who it's being used by?

Martin: Cloudwool® is an innovative nonwoven wool textile that we developed, with the aim of making an affordable fabric in Britain with exceptional sustainability credentials. British sheep farmers often make a loss from their wool, and we wanted to address this issue by creating a versatile wool textile that can be used by pioneering, innovative, and creative British businesses like Grenson. We were excited to collaborate with Grenson, as we hadn't originally envisioned that our material could be used in a shoe. Now, the versatility of our fabric has been extended, and shoes have been added to the list of other Cloudwool products that have been made.
Our textile has also been used in jackets by award-winning British-Chinese fashion brand Samuel Gui Yang, interior products by Rosa Tooke-Cheesbrough, and even 'denim-look' shorts by menswear designer PONDER.ER. British wool is one of the most sustainable fibres because the sheep graze on land that can't be used for arable crops and they help maintain the landscape. However, British wool is often used in low-value products like mattress or home insulation. The more people that buy Cloudwool, the more we can raise the value of British wool and ensure that farmers make a return on this homegrown fibre, allowing them to continue to act as stewards of our land.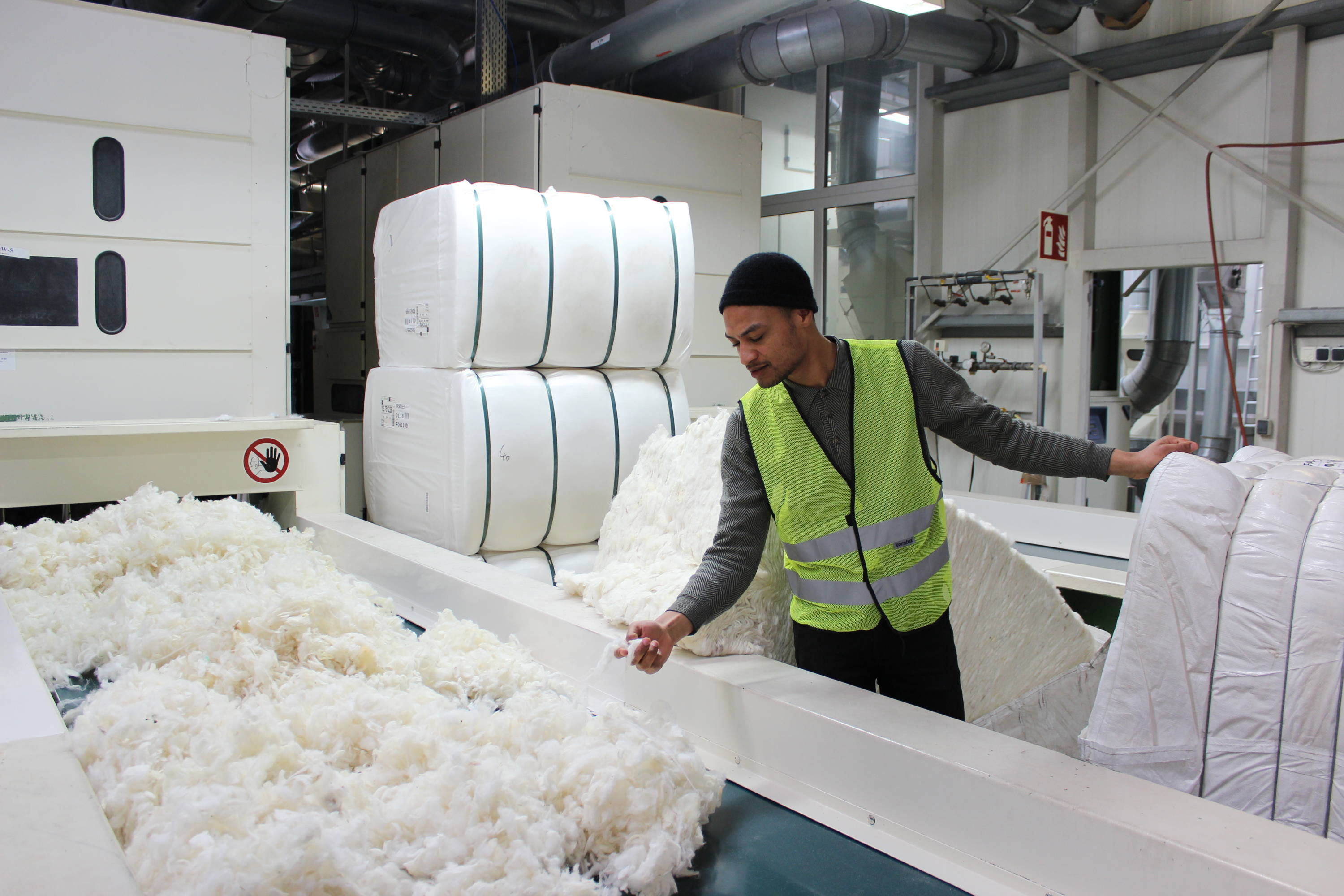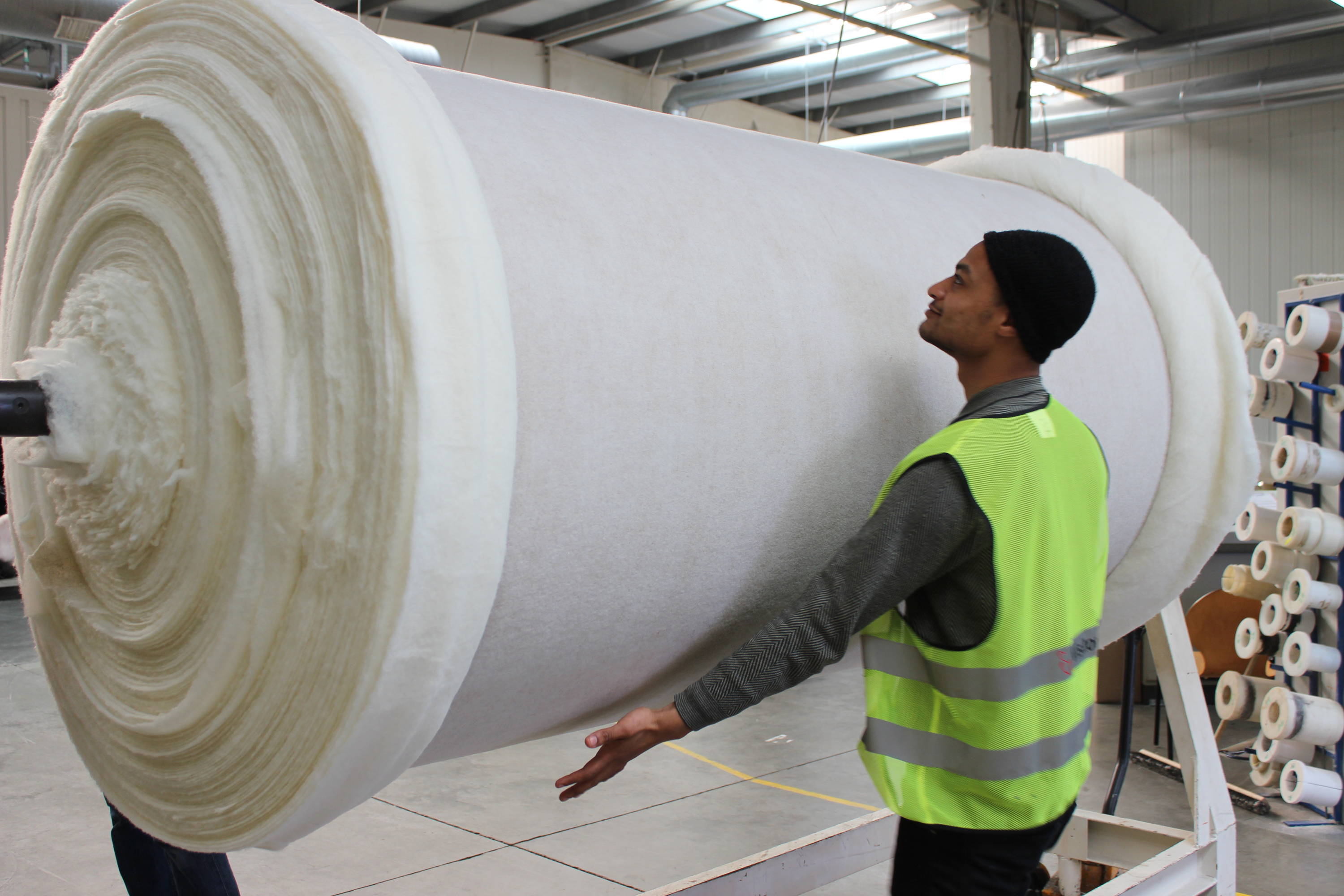 We were excited to collaborate with Grenson, as we hadn't originally envisioned that our material could be used in a shoe. Now, the versatility of our fabric has been extended, and shoes have been added to the list of other Cloudwool products that have been made.
What's special about Cloudwool as a fabric and all the materials that you look at and develop?

Yolanda: Our concept with Cloudwool was to make the lightest weight, most cost-efficient wool textile possible, so that we can bring wool back to the high street at an affordable price. It's almost impossible to find affordable pure wool clothing, because in the past decades, the textile industry began to only use Merino wool, which is valued 10 x higher than British wool. That means only luxury fashion can now afford pure natural fibres, if they buy from conventional suppliers.
As Doppelhaus, essentially we're trying to make better use of undervalued fibres, by turning them into fabrics with aesthetic appeal. We specialise in nonwoven technologies for manufacturing our fabrics because these are technologies designed for high-volume production, which allows us to make Cloudwool and any fabrics we develop at scale in Britain while ensuring ethical standards. We see ourselves as sort of 'textile alchemists', taking fibres and processes that other designers would turn their noses up at, but combining them to create interesting textiles with a unique aesthetic that emerges from the process. A question we often get asked is "why don't you try cashmere?" - but it would never make sense to process cashmere, a rare luxury fibre, combed from a goat in Central Asia, with a nonwoven process. It makes sense to align the scale and quality of production with the availability of the fibre so that we make best use of all the resources we have.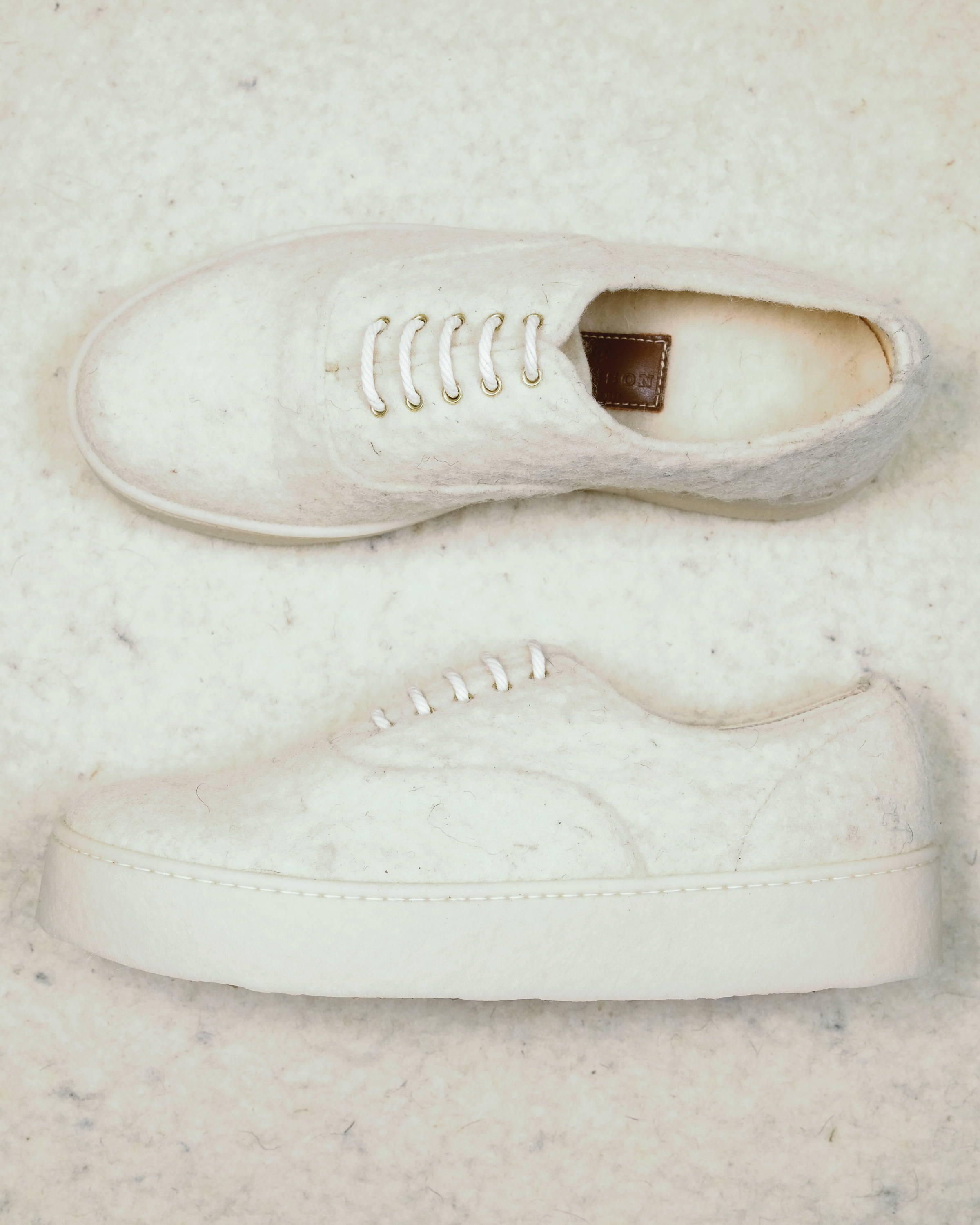 Where do you live and what do you love about the area?

Yolanda: We both live in Berlin in an area called Wedding. I love how mixed and multicultural it is, and I appreciate how it still has a community vibe and people here are very down to earth.
Martin: We both work from home in Berlin, where Yolanda studied, and we love the culture and artistic freedom the city offers. In our mission to establish sustainable supply chains for Cloudwool around the world, we've replicated our UK-based fibre-to-fabric supply chain here in Germany using German wool. It's also cool that local Berliners can visit the fabric retailer Lebenskleidung and purchase some of our material to try. The Cloudwool produced using German wool from the Elbe region was made by us in Chemnitz, Saxony. Despite working in Berlin, Yolanda and I enjoy exploring the city's many exhibitions, lakes, bars, and other attractions, often taking breaks from work to just hang out and enjoy the city's vibrant atmosphere together.
Do you know any secret spots like restaurants, shops, bars and parks that you love and why?

Yolanda: Turkish breakfast at Yöre Gözleme ve Manti Evi in Prinzenallee.
Martin: My favorite spot in Berlin is the top of the hill in Humboldthain park near the Gesundbrunnen. The hill is man-made and has an eerie history - the secret lies beneath it, where there's a cavernous bunker from WW2. From this high spot, you can see the flat city and pick out the features in the horizon.
Do you have to travel a lot for work? Where is the most recent place you visited and why? Do you enjoy it?

Martin: The last place I visited for work was our material distribution facility in Peterborough. I really enjoy being able to travel back to the UK for work, not only to oversee Cloudwool production and and visit trade shows like the Future Fabrics Expo, but also to spend time with my loved ones. It's a great feeling to be able to combine work and personal time in this way.
Do you have to travel a lot for work? Where is the most recent place you visited and why? Do you enjoy it?

Yolanda: Last year I went to Tossa de Mar in Catalonia, and was really impressed by this beautiful historic coastal town. Although it's a touristy area of Spain, Tossa is really well preserved and has beautiful clear waters.
Martin: My last vacation was a cycle trip to the island of Rügen in Germany. I cycled there with a friend and stayed in a beautiful campsite by the lake. What I loved about it was the combination of physical activity and stunning natural scenery. It was great to challenge myself by cycling long distances every day and taking in the beauty of the island at the same time. The campsite by the lake was the perfect place to relax and recharge after a long day of cycling.
Tossa de Mar in Catalonia
If you could live anywhere in the world, where would it be?

Yolanda: I love Berlin, but I miss living by the coast and that is one great thing about the UK: that we are never far from the sea. I am doing a sailing course this summer in Greece, so perhaps after that I will want to live on a Greek island!
Martin: I'm not sure if I'm ready to pack my bags and move again just yet - I still have a lot of schnitzel to eat in Berlin! But if I had to choose, I think I'd go for a snowy wonderland like Scandinavia or Canada. Imagine skiing to work every day and having a cozy sauna in my house to warm up in afterwards! Of course, Yolanda would prefer a Greek island, but she can join me for snowball fights anytime.
Are you a podcast lover? If so, what are your favourite podcasts?

Yolanda: I love learning what makes people tick, so I often listen to Diary of a CEO with Dragon's Den investor Stephen Bartlett, who is the same age as us but much more successful! It's great how he gets inside the biography of his guests and we learn what made them who they are.
Another one I think is fantastic is Sideways by Matthew Syed for the BBC, as he investigates really interesting topics and shines a light on them from a different perspective.
Martin: One of my current favorites is the Evil Genius podcast on Radio 4 hosted by Russell Kane. The show features panel discussions about brilliant yet controversial historical figures such as John Lennon, Boudicca, and Dr. Seuss, and whether they should still be considered as evil or genius today. It's both entertaining and thought-provoking!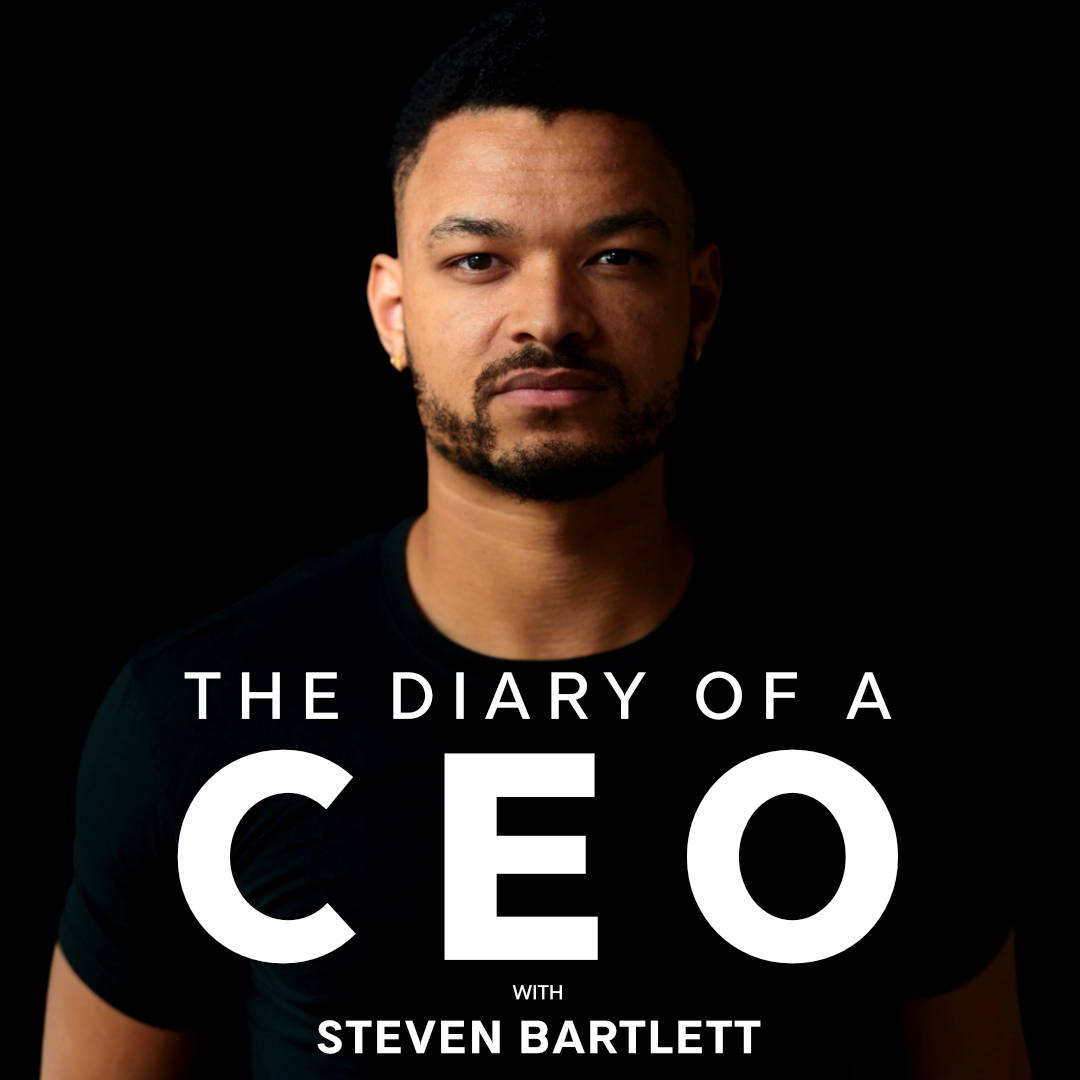 What are your top 3 films and why?

Martin: my top 3 films are Matilda, Sister Act 2, and Fantastic Planet. Matilda is a story of resilience and magic, while Sister Act 2 always fills me with joy, and Whoopi Goldberg's performance is iconic. Fantastic Planet is a French sci-fi animation about a distant planet where humans are kept as pets by giant blue creatures called Draags, and follows the story of a human boy named Terr who becomes involved in a revolt against their oppressive rulers.
We have an OTBT playlist that is made up of all the song recommendations we've had from each interview. Can you give us your 3 favourite tracks to add and why?

Martin: For the OTBT playlist, I recommend adding "The Atomic Bomb" cover by Hot Chip. This cover is a fresh take on a track by the Nigerian funk musician William Onyeabor from the '70s. The beat and layered synths create an infectious and danceable groove.
The second song is "La Femme Fetal" by Digable Planets. This feminist anthem is a powerful and emotive track with a funky, groovy beat. It's a great reminder of the power of music to convey important messages and move people.
Lastly, Abba's "Summer Night City" is a super groovy track that is perfect for a summer day, and as unashamed ABBA fans, it's a must-add to the playlist.
Are there any brands you love that should be on our radar?

Martin: One brand that should definitely be on your radar is BODE, a luxury fashion label based in the USA. Their designs often feature vintage materials and have a relaxed, natural aesthetic that is both charming and unique.
Yolanda: I was excited to see that Anna Wintour and the Vogue team sponsored them recently, because we've loved looking at their clothes for a few years now and they definitely deserve the support.
What does the future hold?

Yolanda: I think we need to find a way to make living a low carbon life aspirational, where we consume less but actually feel more fulfilled. I think Cloudwool demonstrates this quite well, because I find people get more attached to Cloudwool garments the more they wear them, like a kid's favourite blanket. Right now we only pay a price when we buy something, but actually we value clothes more the longer we own them. If we could find a way to reshape the pricing of textiles to reflect the cost per wear, I think that would put us on a better track.
Also making more of our own things, using local resources, and manufacturing in Britain like we did with the Cloudwool x Grensons collab, helps us to understand the true cost and value of our possessions.