OFF THE BEATEN TRACK:
We Talk With Musicians
Dave Okumu and Ruby Hughes

Interview | 05 February 2021
We caught up with our friends, husband and wife team, Dave Okumu (singer/songwriter/producer) and Ruby Hughes (classical singer and musician) to see how they were coping with life in lockdown and ask them some questions about their lives.
One of the lovely things about Grenson is that we get to meet a lot of interesting and creative people and we like to share them with you, our followers, as we hope you also find them interesting.
We caught up with our friends, husband and wife team, Dave Okumu (singer/songwriter/producer) and Ruby Hughes (classical singer and musician) to see how they were coping with life in lockdown and ask them some questions about their lives.
They also very kindly put together a playlist, a mix of both their personal favourite songs which you can listen to via Spotify here if you're looking for some new lockdown tunes.
D: Working hard to retain a sense of gratitude, delighting in my three year old son and my better half, savouring the bittersweet nature of reality, attending to relationships, old and new, making something new everyday.
R: Living in Deptford with my family, travelling the world with Django and singing for live audiences. Record label BIS records Sweden.
What are you most proud of?
D: I am most proud of being a father.
R: My husband and little boy and my mum!
Where do you live and what are your favourite things about that area?
D: We live in Deptford, baby. I've lived all over London but I've never experienced a sense of community in this city as I have here. It's a very moving place to live.
R: We live in the heart of Deptford. I love the sense of community here. It's not really like anywhere else in London as far as I can tell. The high street is bursting with character and it's a true multicultural melting pot. Looking forward to Deptford Market being back in action. It's my favourite flea market.
David: At this point in lockdown, a trip to the other end of the high street feels as exotic as an expedition into the rainforest… I'm longing to travel so much…
If you had a weekend off, where would you go and why?

D: At this point in lockdown, a trip to the other end of the high street feels as exotic as an expedition into the rainforest… I'm longing to travel so much… today, my choice would be a weekend in one of the Living Architecture homes, preferably John Pawson's. I find architecture, design and environment incredibly inspiring and the goal to remain connected to inspiration is surely one of life's highest callings.
R: Snowdonia national park. My ancestral homeland, and one of the most sublime mountainous regions in the world. A walk up the Pygg track please!!
How did you get into the industry?
D: I started gigging while I was doing my GCSE's. My first opportunity came through my physics teacher's band. Thankfully there was an upward trajectory from that point.
R: I started dancing which led to a love of music, later playing the cello and singing. I was the eternal student, and finished my bachelors at the Guildhall School of Music as cellist, before studying voice for three years in Munich and then back in London at the Royal College of Music. I was blessed with the help of scholarships along the way to continue studying and finally started earning a living and transitioning into the music profession aged 30 in my final year or two of Music College. I was fortunate to be a BBC Radio 3 New Generation Artist which really helped me at the beginning of my career providing invaluable opportunities to record and perform.
What projects are you currently working on?

D: My other half Ruby and I started collaborating in the first lockdown. I'm excited to see where those recordings will go. I have always been terrified of working with her because she is the real musician in the household. Over the years, she would periodically ask me to write something for her and I would say, "Give me ten years so I can study composition for voice, then I'll get back to you." There's a longstanding/ongoing collaboration with Grace Jones, an incredibly exciting project with Joan As Policewoman which I can't speak about yet, and another project involving the Miles Davis estate which exists in a similar category of unannounced secrecy. I really enjoyed connecting with Arlo Parks last year too. She's a beautiful person.
R: Currently memorising music for an exciting project with Manchester Collective in a film together with the wonderful film maker Jesse Roger. We are filming works songs by John Tavener, Claude Debussy, Gustav Mahler, Dowland and Ravel. Preparing a piece written for me by Helen Grim for solo voice, violin and string orchestra- songs of Joy to be premiered in Sweden at the end of March if the travel ban is lifted.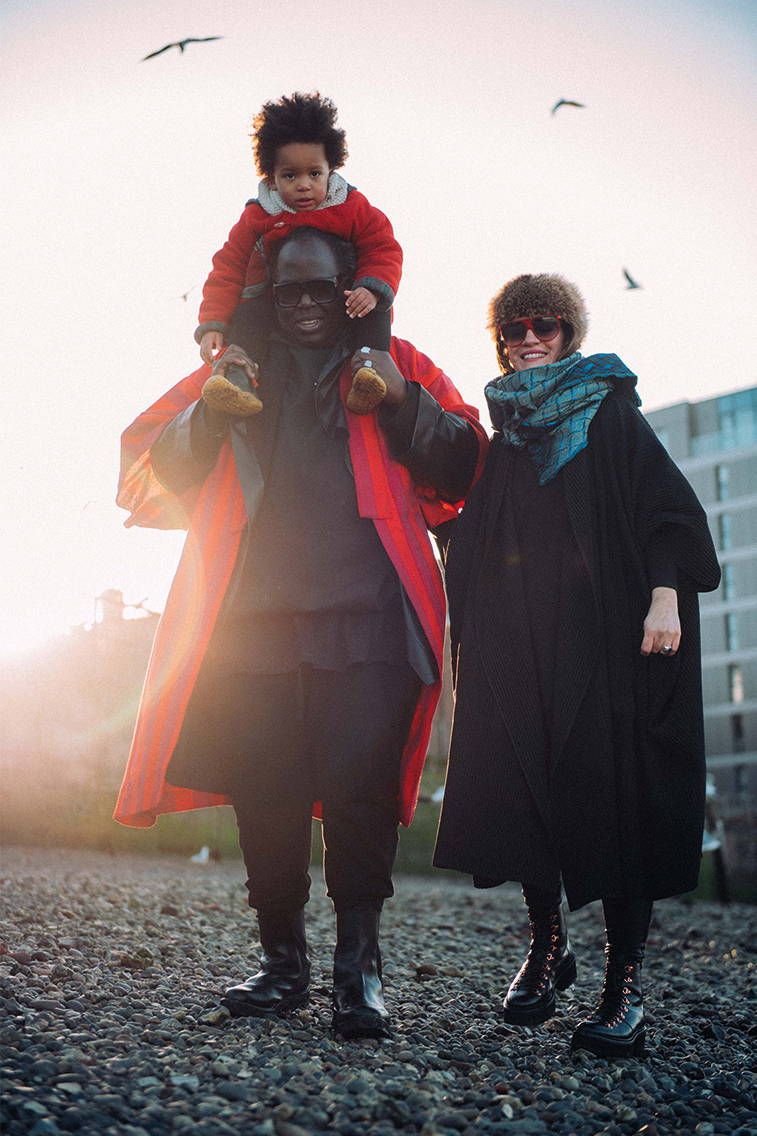 Pictured: David, Ruby and their son.
What up and coming artists should we know about right now?

D: I've been working closely with a truly wonderful artist called Wesley Joseph and I'm very excited to see how that relationship blossoms. He is so brilliant and special. Keep your eyes peeled for that guy. Oof! I've been a fan of Duval Timothy for some time now too. Charlotte Spiral is a lovely project too. Their material is so elegant and timeless. And I recently discovered a really interesting multi disciplinarian called Losh, whose artistic heritage really resonates with me. Check out his track called 'Feelam'. It's a banger.
R: Check out the scheme for BBC New Generation artists. Also the Kanneh Mason family, Louise Alder, James Newby, Golda Schulz.
Best person you've ever collaborated with?

D: I've been so fortunate in my career to have collaborated with so many wonderful people. Living and creating with Grace Jones in Jamaica was an otherworldly experience I shall never forget. On the last night of that trip, we witnessed the super wolf blood moon in the ineffably sublime Jamaican night sky. Truly the stuff of dreams. I've shared stages and/or studios with Yoko Ono, Tony Allen, Beck, Jack DeJohnette, Adele, Ed O'Brien, Amy Winehouse, Anna Calvi, Jeru The Damaja, King Sunny Ade, St Vincent, Damo Suzuki …. so many absurdly talented people. But my favourite collaborators remain the people I grew up playing music with, my bandmates and soul brothers and sisters, Tom Skinner, Tom Herbert, Leo Taylor, Eska Mtungwazi… the roots are so deep with those guys, nothing feels quite like it.
R: The list is too long and I worry I might miss someone out!
How has lockdown changed your life? Have you picked up any hobbies or adopted anything that you will carry on post lockdown?

D: I've always believed that challenges represent opportunity. I'm conscious that it isn't possible to quantify the depth of suffering we experience individually or collectively, but I often find myself reflecting on Martin Luther King's assertion that all unearned suffering carries with it the opportunity for redemption. I am aware of my immense privilege as someone who lives with people I love in a community I love, and who has remained in good health and has been able to continue to express myself creatively, in spite of life altering restrictions. The experience has been profound and bittersweet. There have been lessons in simplicity, balance, putting in the work to maintain a high quality of communication where it truly counts. I would say one of the main lifestyle changes has been a more structured approach to exercise. Gonna try and hang on to that one, for sure.
R: For sure it has. I have needed my family and close friends more than ever as well as invaluable therapeutic support. There was a phase of anxiety and sadness/depression/mourning for the loss of live performance and music making with loved colleagues and friends. Have loved a constitutional 20 minute jog most mornings and very recently have been looking into microbiomes and blood sugar, how what we eat affects mood and well being. My husband and son have been my biggest rock and I couldn't have navigated this last year without their unconditional love and support. The first 3 months of lockdown was blissful from a family point of view. I will cherish this time forever.
Favourite place to eat anywhere in the world ?

D: EN Brasserie in New York. I've had some magical meals there and Reika Alexander, the owner always makes you feel super special.
R: In my imagination a wonderful sushi restaurant in Japan. It's my dream to go there one day and I love Japanese food.
Top 3 films we could all watch during lockdown?

D: There's something about lockdown that puts me in a mind to rewatch things. If I had the hours I'd rewatch The Wire or The Sopranos. My pal Tommy Cobblerz rewatched The Mighty Boosh when he was down with Covid. A strong choice, I felt. I've always wanted to see Moonlight again. I'd highly recommend any of David Olusoga's documentaries. I love that guy. 'Black And British: A Forgotten History' is a great place to start. We all owe it to ourselves to engage with his work. Truly humbling stuff. It would be interesting to watch 'I Am Not Your Negro' again in the context of recent events. I love James Baldwin.
R: Spiral, Amoros Perros and David Attenborough's A Perfect Planet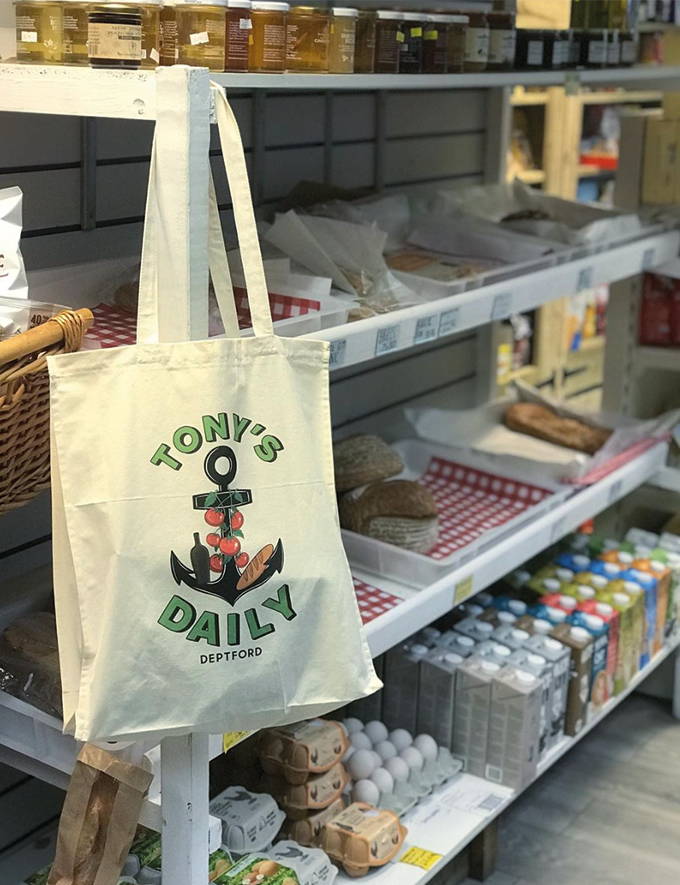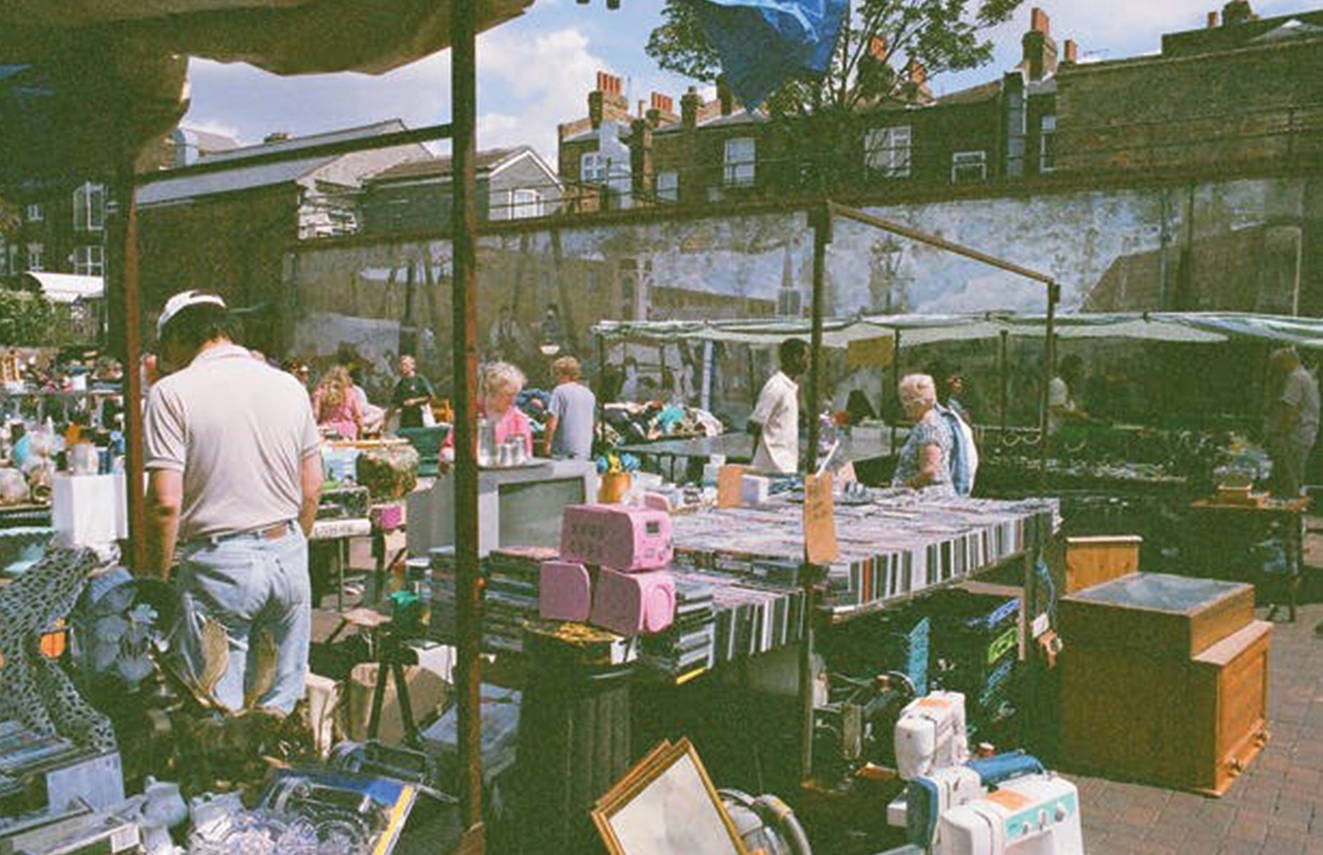 The Amazing Deptford Market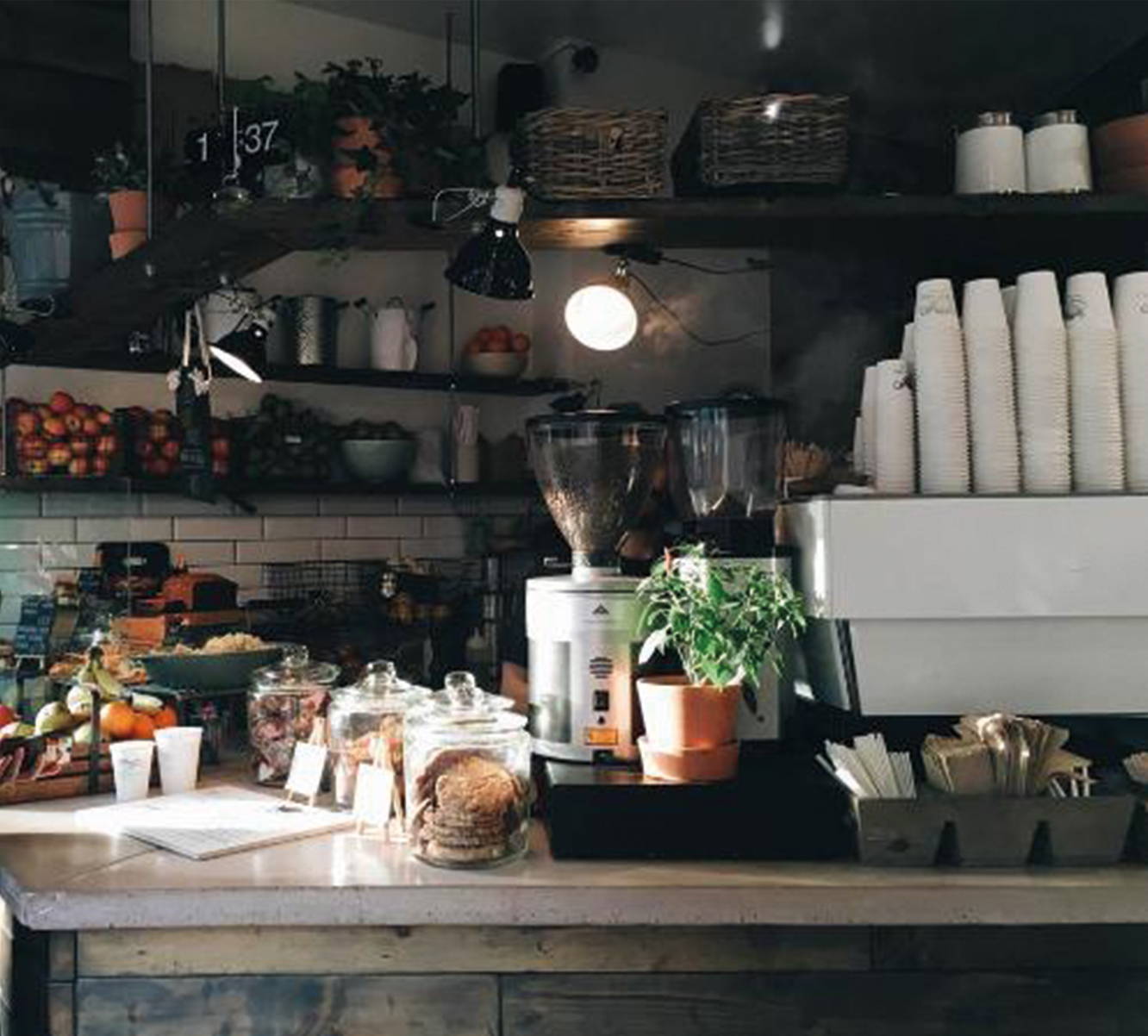 What 3 stores do you use locally and in lockdown are they doing anything we should shout about?
D: Tony's Daily for delicious produce and warm vibrations, The Waiting Room for excellent coffee, company, music and delicious vegan bagels, and Terry's Discount store because Terry is the heart and soul of Deptford and his shop contains everything in the known universe.
R: Mouse Tail coffee shop by the station. Great coffee and croissants. They are introducing organic UK grown veg in a couple of weeks. They have a super selection of dairy and artisanal bread. Suzy's cafe by the station. Delicious bacon, avocado, homemade tomato relish. A bargain at 5£ with a yummy coffee. And Eat Vietnam. Amazing Vietnamese fare. Beautifully cooked. Pho and pancakes are sublime.
D: Today my favourite three songs are 'Sand River' by Beth Gibbons and Rustin Man, 'Landcruisin' by AK Paul and 'Meat Grinder' by Madvillain. This will change again tomorrow.

R:
- Ich bin der welt abhanden Gekommen' Mahler performed by Janet Baker
– Mahalia Jackson 23rd Psalm from her album Black Brown Beige
– ShirleyBassey live performance on youtube of Where do I begin
D: Today my favourite 3 books are 'Sonny's Blues' by James Baldwin, 'The Dream Life of Sukhanov' by Olga Grushin and 'Gentle Parenting' by Sarah Ockwell Smith. This will change tomorrow.
R:
– At the moment: The Gentle Discipline book Sarah Okwell Smith
– Possession by A S Byatt
– One hundred years of Solitude Gabriel Garcia Marquez
D: Adam Buxton if I ever have time!! more a radio person.
Top three people you follow on social media?
D: I try to be careful about what I look at online. It's so addictive and absorbing and can also make me dislike people in the digital realm that I love in person, or visa versa, so my feed is a carefully curated torrent of joy and positivity. At the moment I'm all about Spice Adams, Tony Baker's animal overdub videos and Julian Barrat's instagram, which is essentially a dozen or so pen drawings of guitarists in gruesome shredding reveries.
R: Off grid mostly.
I try to be careful about what I look at online. It's so addictive and absorbing and can also make me dislike people in the digital realm that I love in person, or visa versa.
Finally, if you could put together the best band of all time, dead or alive – who would be in it?
D: I have a deep suspicion of super groups. But imagine what Ennio Morricone and Can would sound like…
R: Right now I am listening to the BBC Philharmonic Orchestra so there's my answer. It's a Rolls Royce.
The people I have and keep in my life. And my late-onset education in poaching eggs.