OFF THE BEATEN TRACK:
Simon Stallard, creator &
Chef of The Hidden Hut
Interview | 04 December 2021
For this weeks Off The Beaten Track we caught up with our friend Simon Stallard, creator and Chef of The Hidden Hut on the South coast of Cornwall.
Simon and his amazing team work with fresh seasonal food and the rhythms of nature, serving from their outdoor beach kitchen.
Fire, food and hunting for phone signal.
What are you most proud of?
Where do you live and what do you love about the area?
I live on the Roseland peninsula, south Cornwall coast. I love the pace of life and always being just a stones throw from the sea. It's as close as you can get to island living, whilst still being connected.
The bit I thrive on most is definitely the creative challenges that take me into the unknown. I enjoy pushing the boundaries and creating something bespoke, something new, somewhere different.
Favourite places to visit/stay?

I recently discovered the Scottish highlands and the landscapes up there totally enraptured me. I stayed in a little mountain bothy near Braemar. I also adore the Scilly Isles off Cornwall for super chilled family holidays, and Greece for food and sun.
Most exciting thing about your job?
The bit I thrive on most is definitely the creative challenges that take me into the unknown. I enjoy pushing the boundaries and creating something bespoke, something new, somewhere different.
What does the future hold?

Hopefully loads more outdoor cooks and a touch more time with my family.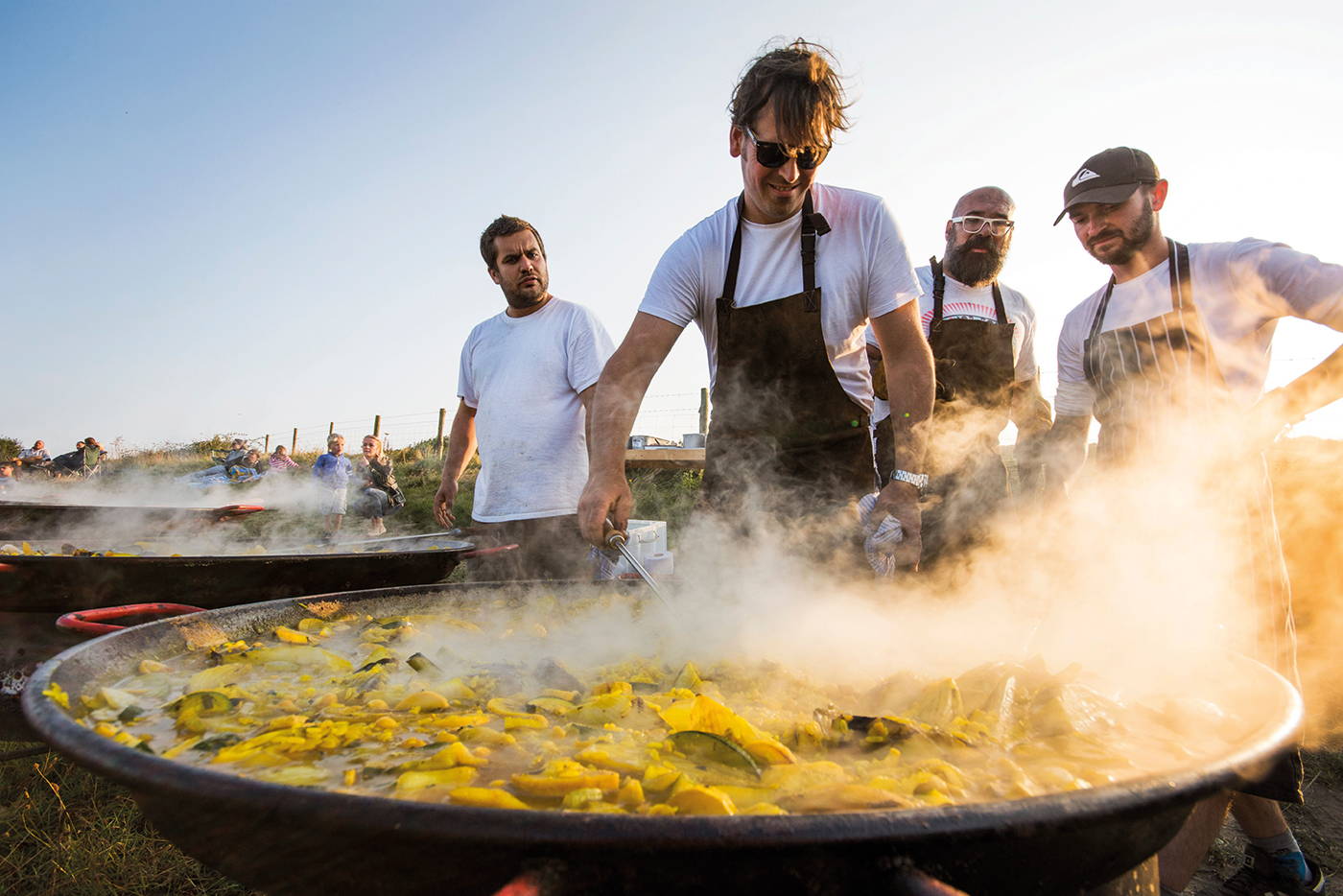 Pictured: Simon in his element!
When did you start The Hidden Hut and why?

It was around 10 years ago. It was a punt as it was so remote. But I had an inclination I could lure people over to this beautiful beach with simple wholesome delicious food.
From the food world, who have you learned from and who has inspired you?

I'm inspired by so many incredible talents in the industry. For me though I really enjoy creatives that can continue to evolve menus / restaurant vibes and keeping the food on the money. The likes of Stevie parle, Andrew Clarke, Simon Anderson, Robin Huddson to name a few.
Did you start doing anything differently since lockdown in March how has it changed your life/work?

Lockdown forced a needed slowdown for me. At the start of 2020 my calendar was hard packed with work and travel. But after chucking the diary on the fire I started to love the gifted time with Jem and the boys. Although I'm really looking forward to exciting times ahead, I'm definitely going to be more considered in what I take on. It's really helped me value those blocks in my new diary that are for pausing and taking breath.
Did you take up anything new hobbies for example or change the way you approached your day?

I thought lockdown would be a great time to hone in on my fascination with carpentry. I invested in new tools and watched some brilliant youtube tutorials. By week two, I thought I was ready to build a fitted wardrobe in our cottage. Unfortunately it's an old cob cottage so the walls are far from straight. Any carpenters reading this will know what this means for fitting furniture. It's just about finished now. Although valuable lessons learned, I think I'll be sticking to the grills.
The Covid situation has hit so many people hard, what advice would you give to those thinking of getting out and going it alone?

Go for it. Don't overstretch yourself ,especially on set up. Your customers will see beyond it to get to your product. Just concentrate on getting the offering unique and tuned-in to your location.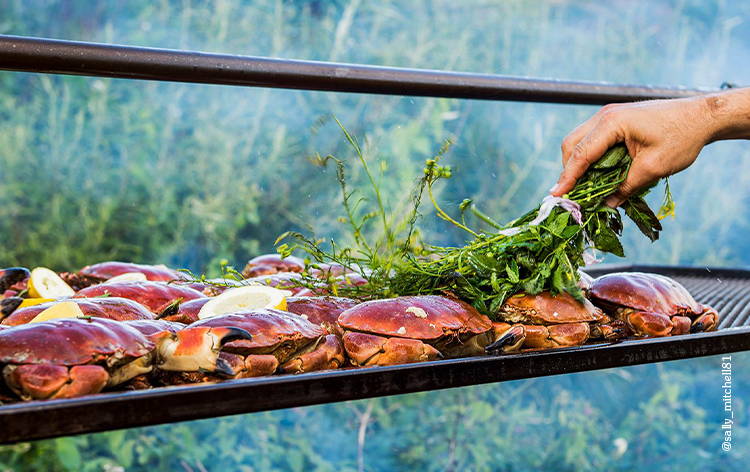 Arguably, you have the best spot in the world to work, but when you're not there, where do you like to visit?
It is a beautiful spot. But come November it's not unusual that I'm craving the buzz of a city. I'm always drawn to a bustling market filled with energy and great food. Mexico is somewhere I'm keen to explore further.
Last year you partnered up with Laura Jackson and Hoste London to create an amazing supper club experience in a London vineyard, what was your favourite moment?
Laura is such love. She's not only an extremely talented cook, her attention to detail is second to none. It's always a challenge creating an event like that, especially with the weather element to consider. But we were lucky in the end, we had back-to-back dusky sunsets. When the long table through the vines was full, I just loved seeing everyone having a good time.
What's your favourite piece of cooking equipment and why?
I've just designed and welded my own grill station with an attached wood library. It's got all my favourite grills under one roof. I'm also quite an anorak about an axe.
What tunes get your BBQ going?
By The Rivers always sets a good vibe.
On your day off, where do you like to eat?
I'd go and see Howard at Bango Kitchen in Penryn for a bowl of Ramen or a grab a booth at the Star & Garter over the water in Falmouth for a family roast.
Do you have any favourite suppliers you would like to share?

I've just started working with Katarina from Saft Drinks to develop some small-batch seasonal cordials for the Hidden Hut. She makes them by simply steaming the fruits to extract their natural juices. They are absolutely delicious, so intensely fruity.
English wine growers are becoming more renowned and experimental, which vineyards and wines do you recommend?

The Camel Valley Rose Brut is really up there for me. Fantastic Cornish bubbles.
I'm a long standing fan of the Verdant Brewery in Falmouth, but the other brewer that's caught my eye recently is Pipeline in St Agnes, they do some really vibrant, punchy IPAs.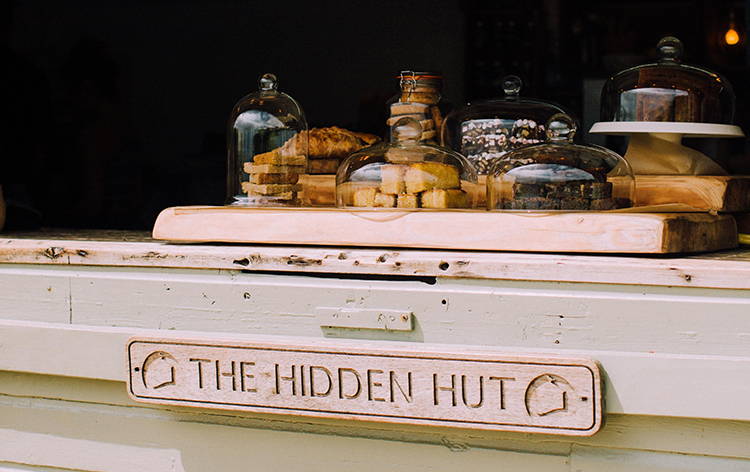 -The Whole Fish by Josh Niland – I love the way he challenges old methods and re-writes the rule book for fishmongery.
-Hartwood by Maya Henry & Eric Werner – this beautifully shot cookbook always makes me long for the Yucatan.
-For fiction, anything by Jon Stock.
I love Tarantino films Pulp Fiction, Reservoir Dogs, etc. But to be honest, the only films I get to watch these days are kids ones. Paddington 2 is a firm favourite.
-The Kitchens on Fire
-Biting Talk
-Skullsession
-FEAR – Ian brown
-Unfinished symphony – Massive Attack
-Higher than the sun – Primal Scream
Bosuns Locker Chandlery in Falmouth and Shiver me Timbers reclamation yard in Penzance.
Most inspiring IG account you follow?

@dannynortphoto – he's so good at capturing the energy and atmosphere of festivals, something so many of us are craving right now
Finally, what is your favourite, childhood food memory?

I've so many, but one that really stands out was this Greek taverna I went to with my family when I was about 10. They only served one dish – an incredible grilled aubergine dish and steak, nothing else. But as a young kid, the highlight was the old mama waitress who cleared the table by asking us to hold our drinks as she picked up all four corners of the table cloth, gave it a quick twist and off she left with all our dirty plates and cutlery slung over her shoulder in one incredible move!